10 Years of Refinement: How MyTherapy Has Become the Platform for Pharma' Digital Services
With smartpatient turning 10 this year, we look at how a decade of iterative UX and UI improvements to MyTherapy have turned it into the platform for pharma's digital services, offering proven engagement out‑of‑the‑box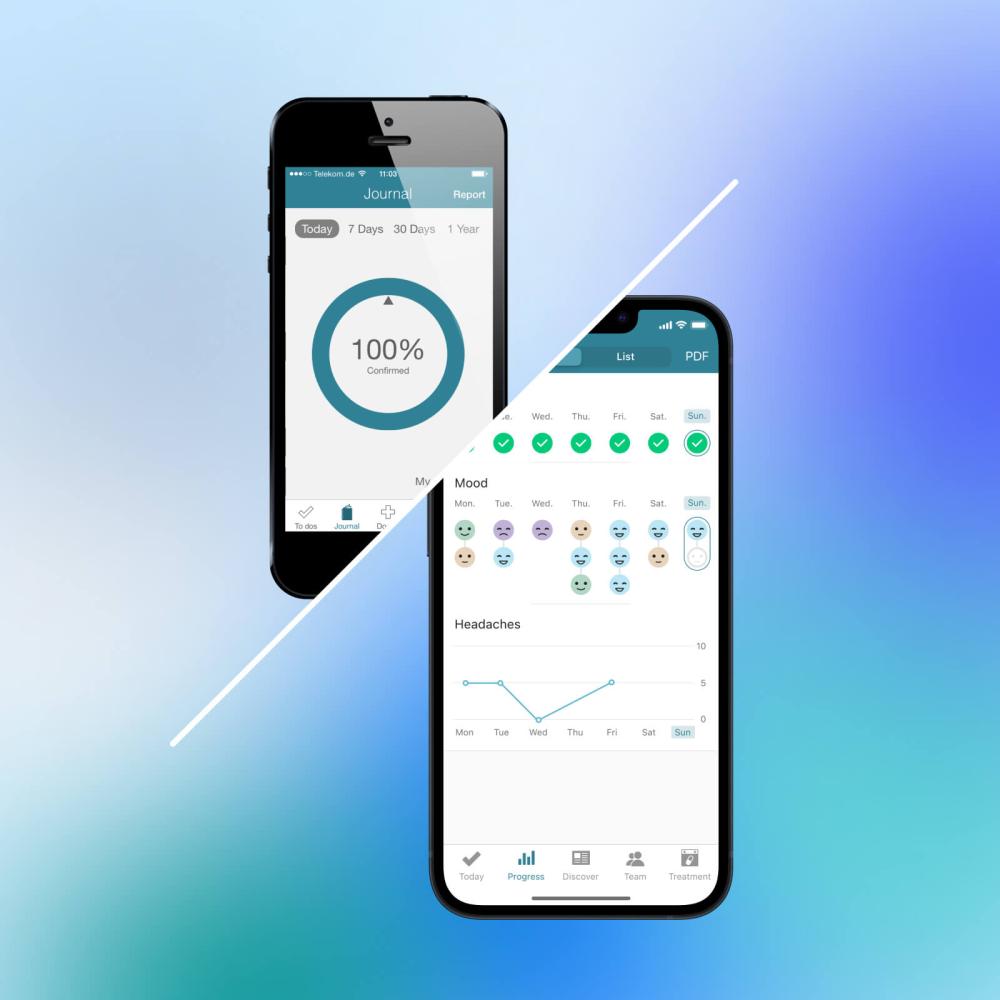 smartpatient is turning 10 years old in 2023. Over the course of the last decade, the MyTherapy app has been refined over hundreds of iterations
The UX and UI improvements made to MyTherapy in that time have led to exemplary levels of engagement among its 8,000,000+ users
This makes MyTherapy the ideal platform for pharma's digital services, including patient support, education & activation campaigns, RWE & data insights, and connected devices
2023 marks the 10th anniversary of smartpatient, representing a significant milestone for a company that was founded on the simple idea that apps can help anybody taking regular medications and improve adherence. MyTherapy was the result of that idea and now boasts a global user base in the millions, while acting as a platform upon which we run patient support programs, content campaigns, and other services for the pharmaceutical industry. Read how one of the keys to this longevity is endless iterative improvements to the UX and UI of MyTherapy and why, when partnering with us, pharma can offer patients a program with a level of refinement and engagement that is almost impossible to achieve when building from scratch.
Building on the MyTherapy OS: A Decade of Refinement & Engagement Out-of-the-Box
We run a range of pharma services on the MyTherapy platform, including patient support, education and activation campaigns, and connected devices, while also using data to generate insights for partners. The versatility of the MyTherapy platform is why we refer to it as the Operating System for digital pharma services.
When running services on the MyTherapy OS, pharma is benefitting from a decade of iterative UX and UI improvements, which influence even the smallest details of the software. These improvements are based on extensive testing, user feedback, and data regarding user behavior.
The results are reflected in the feature set, visual design, user funnels, accessibility components, precise language, speed and responsiveness, and many other aspects of MyTherapy.
These elements combine to generate an extraordinary level of engagement. Users engage with the app an average of around six times per day. Furthermore, the app's "stickiness" – measured as a ratio of daily active users to monthly active users (DAU/MAU ratio) – is 67%. For reference, WhatsApp's DAU/MAU ratio is 77%, Facebook's is 66%, and Twitter's is 41%.
For a product so closely linked to users' health and treatment management, this engagement is critical for a positive impact to be achievable.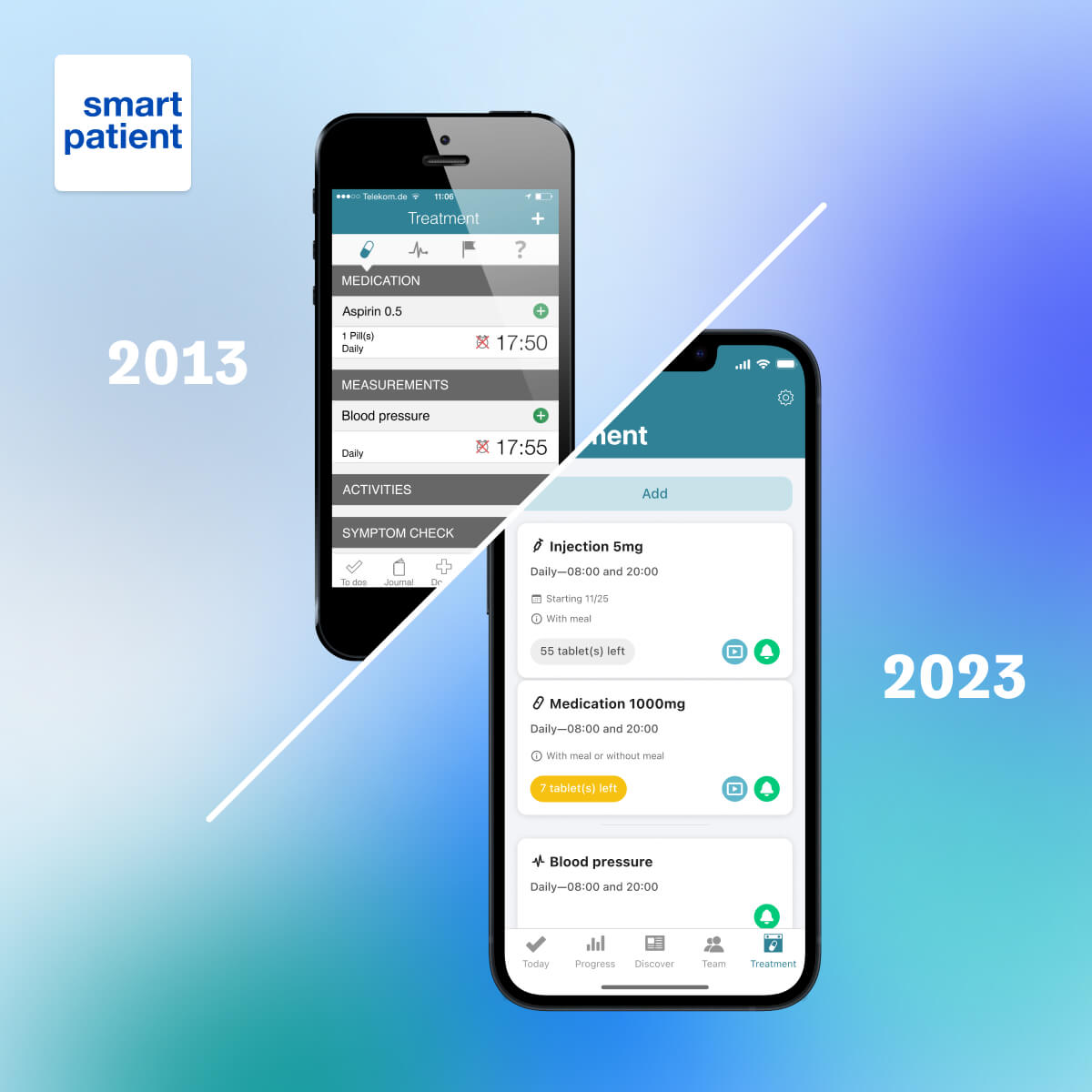 The Pharma Services That Run on the MyTherapy OS
The decade of refinement that has made MyTherapy an app with such high levels of engagement allows us to offer a range of pharma services that can run on the platform.
Patient Support
The most prominent pharma service we run on the MyTherapy OS is digital patient support; we provide tailored versions of MyTherapy to companies such as Merck, Novartis, Pfizer, Bayer, Sanofi, and ALK. The patient support programs we run for these partners are tailored to the needs of patient populations taking specific medications.
We take a modular approach to running patient support on MyTherapy, allowing different partners to configure programs based on the desired impact. This modular approach also allows the same program to be configured differently on a market-by-market basis, which helps achieve true accessibility and scalability.
The programs running on MyTherapy typically aim to support patients in aspects such as treatment initiation, adherence and persistence, and symptom and side effect management. When running a program on MyTherapy, partners gain access to a data dashboard that helps pharma understand patient needs and provide KPIs.
To learn more about running patient support programs on MyTherapy, click here.
Patient Education & Activation
We developed the MyTherapy Campaign Engine to help pharma run Rx campaigns, such as those aimed at increasing education and awareness of particular topics along with patient activation.
By running campaigns with the MyTherapy Campaign Engine, pharma can tap into individual patient communities within the app's user base of over 8,000,000. In doing so, pharma can reach patients with far greater accuracy than is possible with typical web campaigns.
In a recent campaign aimed at raising awareness of a particular vaccination among vulnerable patients, we ran surveys to gain insight into users' views. We found that those who engaged with the content used in the campaign were far likelier to receive the vaccination, which validated the real-world impact of the campaign.
As such, the MyTherapy Campaign Engine can add huge value to any education, awareness, or activation campaign pharma wishes to run.
To learn more about running campaigns that get the right message to the right patients, click here.
RWE & Data
With the wealth of data collected by the MyTherapy app, we can generate real-world evidence on topics that matter to pharma. We can anonymously generate insights into patient communities, such as those taking a certain medication or living with particular diseases.
Furthermore, we can run custom surveys among those same patient communities. With MyTherapy having such an engaged user base, we can typically achieve extremely strong response rates, allowing pharma to quickly and efficiently gather insights on the topics that matter to them.
To learn more about generating real-world evidence and data insights using MyTherapy, click here.
Connected Devices
Finally, we have put time and resources into achieving an ISO 13485-certified quality management system and an ISO 27001-certified information security management system. Both of these are essential for receiving approval for digital programs that are classed as medical devices.
This allows us to build SaMD (software as a medical device) components on MyTherapy and develop digital therapeutics (DTx). The scope for products of this nature is practically limitless, from connecting to physical devices (such as smart injectors) to standalone DTx.
Whatever the project our pharma partners plan to embark on, our ISO-certified QMS and ISMS open the door for MyTherapy to act as the platform for connected devices.
To learn more about running connected devices on MyTherapy, click here.