Solutions Series: How We Achieve Impactful Digital Patient Support for Pharma Partners
In this series, we explain how we offer solutions to some of the biggest challenges pharma faces in different areas of digital health. In this post, we focus on digital patient support programs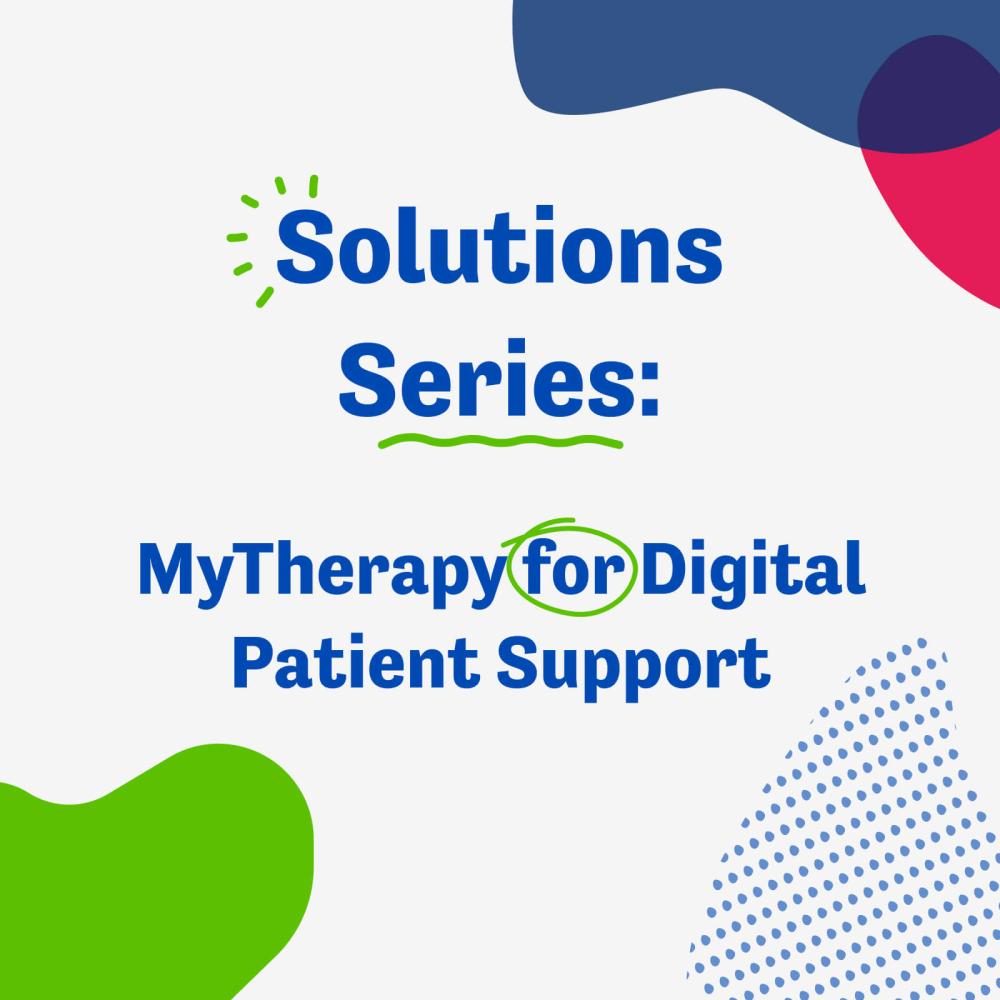 Pharma faces challenges when it comes to digital patient support, which often results in programs that fail to achieve the desired impact
Scalability, impact, RoI, user adoption, and maintenance are five topics that we regularly discuss with pharma partners
Read how we build on the MyTherapy platform to that tackle these issues and achieve impactful digital patient support programs for our partners
In this "Solutions Series" of blog posts, we look at the most common issues we hear from our pharma partners regarding different digital initiatives and how we solve them with our MyTherapy platform. In this post, we are focusing on pharma's digital patient support programs and topics relating to scalability, impact on adherence and persistence, return on investment, user adoption, and long-term maintenance.
5 Challenges Facing Pharma's Digital Patient Support Program & Our Solutions
Pharma's problem: "We are unable to scale digital patient support programs to different markets."
The solution: Every program we run is built on the same MyTherapy platform, which includes all of the fundamental features required for a valuable patient support program. On top of this platform, individual modules can be run to address specific needs regarding the therapeutic areas, product, or market. This modular approach allows different markets to configure a program that best meets their needs and budget. One market might wish for the program to communicate with other channels as part of an omnichannel patient support offering, while another might want a more basic program solely focused on adherence support. This is completely achievable.
We also work with our pharma partners to ensure that different markets are represented from the very beginning of the planning stage for a digital patient support program. Ideally, this includes at least one smaller market at launch. Doing so can help focus efforts on the aspects that provide the greatest value proposition to patients and pharma while ensuring that the final product is one that will be viable for additional small markets.
Pharma's problem: "We have no idea what impact our program has on patient outcomes"
The solution: We have worked closely with pharma partners over the years to develop KPIs and a reporting system that provides evidence of the impact programs have on patient outcomes. Perhaps the most important of these is self-reported adherence, with medication non-adherence being a major cause of avoidable hospitalizations and deaths.
We define adherence as the rate of confirmed medication intakes relative to resolved reminders (reminders that are confirmed or skipped). Similarly, MyTherapy data can be used to demonstrate an impact on persistence. Beyond adherence and persistence, we work with our partners to identify the desired impact of a patient support program and the MyTherapy data points that can act as KPIs. These might include metrics such as symptoms and side effects, well-being, and common comedications. Additionally, tools such as surveys can be pushed to program users to gain insights linked to patient outcomes.
Aside from defining the KPIs for our partners' patient support programs, we provide reporting and customizable data dashboards to ensure the data is presented in the most usable formats.
Pharma's problem: "We struggle to justify sustained investment in our digital programs when budgeting season rolls around."
The solution: While supporting patient outcomes is the primary concern when developing patient support programs, there is no escaping the fact that digital tools need to be supported with a business case for long-term financial sustainability.
Fortunately, many of the same metrics that reflect positive patient outcomes also support the business case for digital PSPs. Adherence and persistence are, again, two of the most relevant metrics for demonstrating a positive RoI; after all, higher adherence and persistence mean a greater percentage of prescriptions being filled as intended. Additionally, user uptake and patient satisfaction are KPIs we provide as part of the reports we provide our partners on a regular basis.
For any program running on MyTherapy, there are data points that can be used to demonstrate the RoI. This is why we work with partners to identify those data points and have an in-house data science team responsible for curating relevant reports and dashboards.
Pharma's problem: "Nobody is using our program."
The solution: User adoption and user retention are fundamental to the success of our MyTherapy platform, which is why the publicly available app boasts a user base of over 8,000,000 people who engage with the app an average of roughly six times per day.
This user base contains patients living with practically any disease and taking almost any pharmaceutical product. This means we can enroll existing MyTherapy users to partner programs simply by pushing notifications letting them know of the program's availability.
We have experience in online and offline user adoption and, just as importantly, 10 years of experience in creating a user experience that drives retention. We use data, feedback, and user testing to understand where user drop-offs are likely to occur and what can be done to prevent them. This is part of our regular approach to developing the MyTherapy platform, which means it benefits each and every one of our partners at no additional cost.
Pharma's problem: "Our programs are never kept up-to-date."
The solution: An issue we hear a lot from our pharma partners is that previous efforts at running digital patient support programs have failed due to a lack of long-term maintenance. Pharma's in-house efforts and those commissioned to vendors are often considered 'projects' that lack continued attention after launch.
We tackle this by making the MyTherapy platform the heart of every partner program. Our development teams treat the platform as a product rather than a project, meaning it receives continuous support and iterative improvements. Since its launch, MyTherapy has received hundreds of updates.
The platform approach means our pharma partners never need to worry about maintenance. Programs will be optimized for new versions of mobile operating systems and take advantage of new technology to add greater value for patients.
This approach allows us to focus our efforts with pharma partners on ensuring the modules running on the MyTherapy platform are optimized to meet patient needs and programs achieve their desired impact.
Talk to Us About Running Patient Support Programs on MyTherapy
If you are interested in running patient support programs on MyTherapy, click here to book a meeting and discuss how our solutions can meet your needs and those of your patients.