Solutions Series: How Pharma Can Generate Real-World Evidence with MyTherapy Data
In this series, we explain how we offer solutions to some of the biggest challenges pharma faces in different areas of digital health. In this post, we focus on how patient-generated MyTherapy data can generate real-world evidence and actionable insights for pharma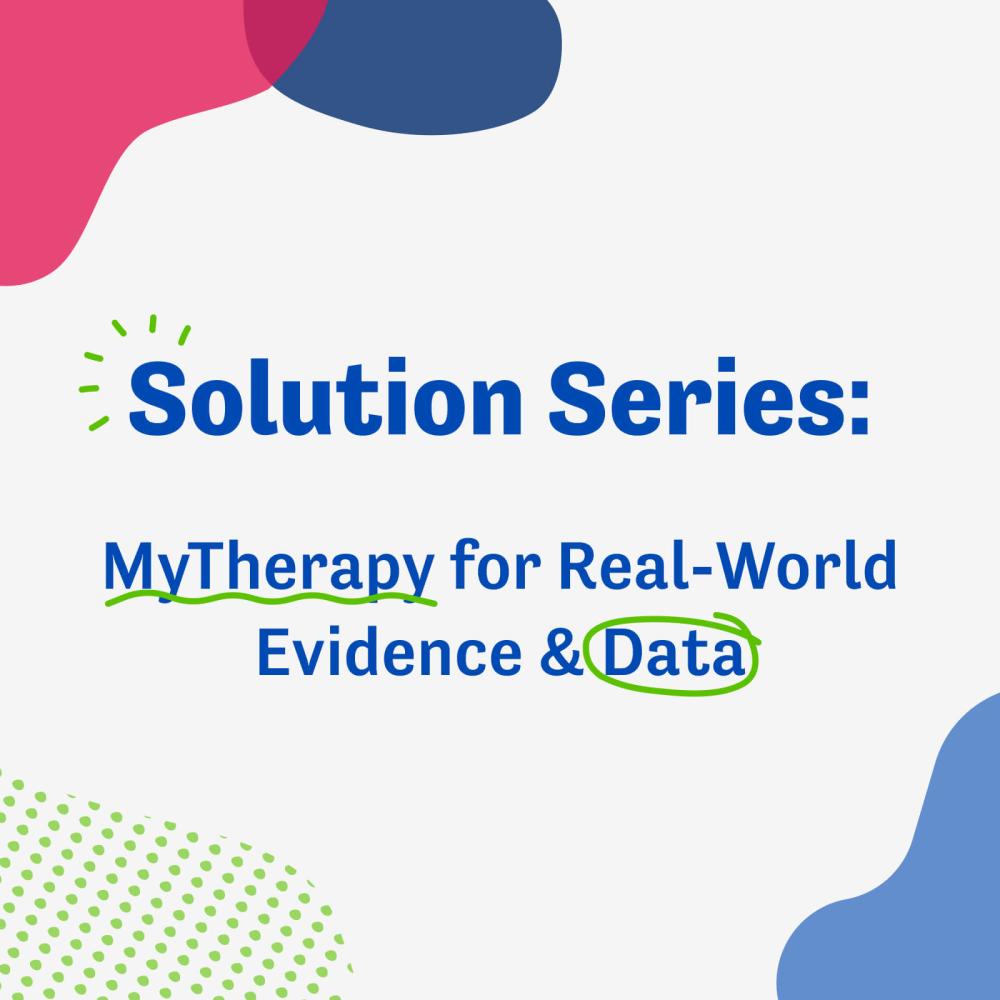 Millions of patients use MyTherapy to manage their medications and daily treatment needs, generating data on thousands of products across therapeutic areas
Qualitative data can be additionally generated with custom surveys that are pushed to target patient communities within MyTherapy
Read how we work together with partners in the pharma industry to create real-world evidence and actionable insights
In this "Solutions Series" of blog posts, we look at the most common issues we hear from our pharma partners regarding different digital initiatives and how we solve them with our MyTherapy platform. In this post, learn about our solutions for generating real-world evidence by utilizing patient-reported data gathered within the MyTherapy app as well as how we run surveys among targeted patient populations to discover specific insights for pharma partners.
3 Challenges Pharma Faces for Generating Real-World Evidence
Pharma's problem: "We cannot measure real-world medication adherence or persistence efficiently."
The solution: Measuring medication adherence and persistence for individual pharmaceutical products is notoriously difficult, not least when it comes to doing so among a significant patient population in real-time.
We use MyTherapy to help pharma measure adherence and persistence rates, monitor how efforts made by pharma to improve them work, and how these rates compare to competitor products on the market.
Our solution revolves around MyTherapy's 7-figure user base, which is comprised of patient populations in practically any therapeutic area. Within those patient populations, there are users taking a vast array of products on the market. The majority of those users use MyTherapy as a medication reminder app and, subsequently, enter whether they have taken or skipped intakes.
We define adherence in MyTherapy as the percentage of confirmed intakes from resolved reminders (i.e. confirmed or skipped).
Similarly, we can use data gathered from medication reminders to reveal insights regarding persistence. One use case for this is in combination with digital patient support programs we run on MyTherapy for individual products. Newly prescribed patients are enrolled into such programs with a special activation link, allowing us to precisely map patterns in persistence from the beginning of patients' treatment journey.
We work with partners on a case-by-case basis to understand how MyTherapy data can be used to generate real-world evidence regarding adherence and persistence and ensure that the data is processed in a manner that reveals actionable insights for our partners.
Pharma's problem: "We struggle to generate qualitative data from patients."
The solution: We run custom surveys for our pharma partners, directed at the patient populations previously mentioned. Surveys are sent to the target patient populations with push notifications and conducted directly within the MyTherapy app.
We have developed our in-app survey capabilities so that we can run surveys of different formats based on the individual requirements of our partners. We work with our partners to ensure the surveys are designed and phrased in an optimal manner to generate the desired real-world evidence. Repeat surveys can also be conducted to measure any patterns that emerge or any changes that occur over time (for example, to help understand whether an awareness or education campaign has impacted patients' views or attitudes on a topic or how and why patients were prescribed a particular treatment).
Finally, by conducting surveys directly within MyTherapy, users are engaging with an app they are already familiar with, helping boost response rates compared to "cold" market research tools.
The result is a custom survey service that can target specific patient populations, be tailored to meet pharma's need, and generate excellent response rates. For pharma, this is an efficient way of generating qualitative data and valuable real-world evidence.
Pharma's problem: "We're unable to generate usable real-world evidence from data."
The solution: On its own, data is often not much use. A topic of conversation we have had with many pharma partners is that of presenting specific data points in a manner that makes it insightful and actionable.
For partners running programs on MyTherapy, therefore, we have developed a data dashboard that is a standard part of the package. This contains the most relevant data points for practically any program, including adherence data, patient uptake, and user behavior. The dashboard has been developed to make this data usable, helping pharma identify trends and patterns among the patient population.
Partners can also opt for a premium dashboard that includes additional data points, such as analytics insights regarding content. Finally, we can develop entirely custom dashboards for partners with specific requirements.
While these dashboards have been developed for partners running a program on MyTherapy, these data points exist for any patient population using the regular version of the app. This means we can offer data and real-world evidence as a standalone product. In such cases, we work with our partners to understand which data points will generate the most valuable insights.
Our in-house data science team is at the heart of turning the results of these conversations into reality, creating powerful reports and dashboards for partners.
Talk to Us About MyTherapy Data & RWE
In addition to providing practical solutions pharma faces in utilizing data for real-world insights, we work behind the scenes to make sure our data security policies and procedures are of the highest standards. This is reflected in our ISO 27001 certification, which was achieved by passing an audit with zero non-conformities. For pharma, this offers peace of mind that we take information security seriously and treat data with care.
If you want to learn more about how you can gain real-world evidence and actionable insights from patient-generated MyTherapy data, click here to get in touch.