Solutions Series: Getting the Right Message to the Right Patients with Activation & Education Campaigns
In this series, we explain how we offer solutions to some of the biggest challenges pharma faces in different areas of digital health. In this post, we focus on running effective patient activation and education campaigns that have a measurable impact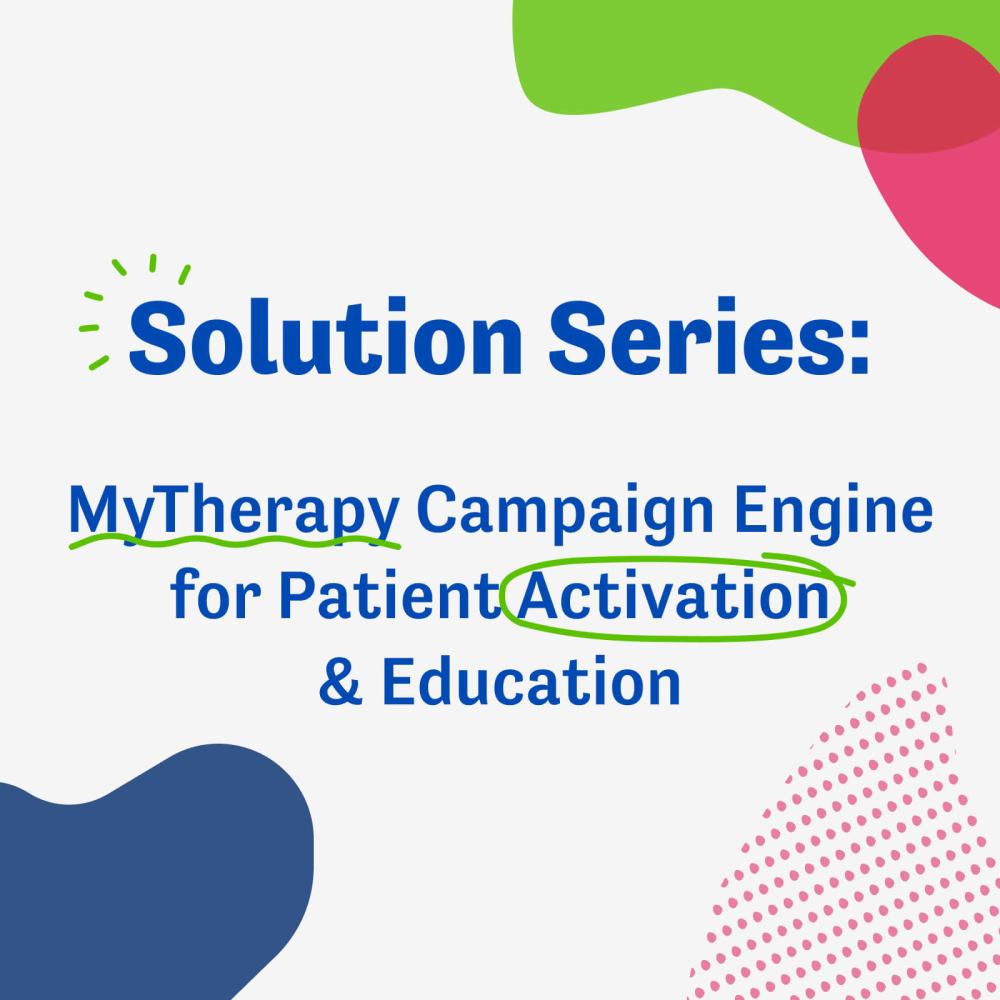 Pharma faces challenges when running patient education and activation campaigns, making it difficult to run campaigns that have a measurable impact
Targeting, measurability, compliance, and engagement are a handful of the barriers that are regularly discussed with our pharma partners
Read how the MyTherapy Campaign Engine has been designed to solve the specific challenges pharma faces when running patient-facing campaigns
In this "Solutions Series" of blog posts, we look at the most common issues we hear from our pharma partners regarding different digital initiatives and how we solve them with our MyTherapy platform. In this post, read how we solve the most common issues pharma faces when it comes to patient activation and education campaigns, including how we help pharma reach the target patient populations, measure impact, and create engaging and compliant content.
5 Challenges Pharma Faces for Patient Activation & Education – And the Solutions
Pharma's problem: "We are unable to target patient populations accurately."
The solution: The number one problem we have heard in our discussions with pharma partners over the years when it comes to running content campaigns is that reaching the target patient populations is extremely difficult. Many ad platforms through which content campaigns can be promoted, such as Google Ads, make targeting based on healthcare information understandably restricted. As a result, many vendors running content campaigns on behalf of pharma run broad campaigns, with the majority of impressions reaching people outside of the target audience.
We designed our MyTherapy Campaign Engine with the primary intention of addressing this issue for pharma partners. By pushing notifications to groups of MyTherapy users based on anonymous data, such as the reminders they have scheduled, we can reach patient populations far more accurately. This is entirely compliant and done in a manner that protects users' privacy. We can run in-app campaigns alongside more typical web campaigns, the latter of which benefits from performance marketing techniques such as retargeting.
This combination helps pharma reach its target audience for patient activation and education campaigns with greater accuracy, helping generate the maximum impact from the campaign budget.
Pharma's problem: "We cannot measure the impact of content campaigns."
The solution:When it comes to measuring impact, the MyTherapy Campaign Engine contains other mechanisms designed to help pharma understand the real-world results of an activation and education campaign. One such mechanism is to run in-app surveys before, during, and after campaigns to measure the influence of a campaign.
An example of this was a campaign we ran for a pharma partner designed to raise awareness of a particular vaccination among vulnerable patient populations. The results of the surveys we ran as part of the campaign revealed that respondents who had engaged with content showed a far greater inclination to get vaccinated than those who had not. This type of feedback can be gathered with multi-question surveys or with a single question "widget" that can be embedded in content, the latter of which is particularly powerful for generating a high response rate.
Similarly, we can observe user behavior in the MyTherapy app to validate impact; for example, by analyzing whether the percentage of users with reminders scheduled for a particular type of medication increases throughout the course of and after an awareness campaign.
We work with partners on a case-by-case basis to identify the desired impact of any given campaign, how that impact can be achieved using the MyTherapy Campaign Engine, and how the impact can be verified using the range of tools we have available within the MyTherapy app.
Pharma's problem: "We are concerned about compliance issues for Rx content campaigns."
The solution:Another common concern we hear from pharma when it comes to running Rx campaigns is that of compliance. Discussing advertising platforms and performance marketing methods naturally raises the question of whether such campaigns fall foul of advertising restrictions in markets around the world.
Our solution to this lies in having an in-house editorial team consisting of experts with years of experience in the field of medical writing. In particular, we have a clear understanding of what is involved in Medical, Legal, and Regulatory (MLR) reviews and conduct pre-review checks to make the process as smooth and efficient as possible.
We ensure that the information used in campaigns is factual and educational and does not stray into the field of promotional content.
Pharma's problem: "We cannot produce effective content in-house."
The solution: Following on from the previous point about using only factual and educational content, there is often the impression that this simply means lifting text from products' safety information leaflets and republishing it in individual content pieces.
Unfortunately, this approach does nothing to achieve engaging content – and engagement is the key to unlocking impact.
As such, the experience of our editorial team is crucial in taking factual information and producing content that is written in a far more readable and engaging manner than is found in information leaflets. Our efforts in producing more engaging content are regularly analyzed with the help of our data science team, who can dive into engagement metrics and reveal insights regarding topics such as clickthrough rates (CTR), time on page, and call-to-action (CTA) clicks.
These insights help us gain an ever-increasing knowledge of the content that resonates with patient populations and how to craft content to achieve specific aims.
We also make an effort to test elements such as headlines and the images used in a content piece, such as with A/B tests that can reveal specific insights. Finally, our data science team also dives into details such as how the timing of push notifications for content and surveys influence metrics such as open rates and response rates.
When combined, these efforts result in our editorial team producing effective and engaging content for any activation and education campaign.
Pharma's problem: "We do not get value for money when running activation and education campaigns."
The solution: A combination of the above challenges results in pharma failing to derive demonstrable value from patient activation and education campaigns. A lack of targeting means money is wasted on clicks from outside the target audience and a lack of measurability means pharma is in the dark when assessing the real-world impact of a campaign. This can make it difficult to justify the cost of running such campaigns.
Our solution to this is to provide our pharma partners with a detailed report of their campaigns that contains all of the most relevant KPIs.
These KPIs range from content analytics metrics (clickthrough rates, cost-per-click, call-to-action clicks, etc.) to the results of survey designed to validate specific aims. We work with our partners on a case-by-case basis to fully understand the desired impact of a campaign and ensure that the reporting is tailored to deliver the most important information.
Combined, our solutions help pharma reach the right audience with the right message with content campaigns and provide evidence that they achieve the desired impact.
Talk to Us About Powering Your Patient Education and Activation Campaigns with the MyTherapy Campaign Engine
If you would like to speak to us about powering your campaigns with the MyTherapy Campaign Engine, click here to book a meeting.