Pharma Leaderboard 2023: Companies Ranked by Digital Health Innovation (According to Industry Leaders)
Find out which pharma companies are the most (and least) innovative according to respondents to our 2023 Industry Pulse Check survey and how pharma can overcome the biggest obstacle facing the development of its digital capabilities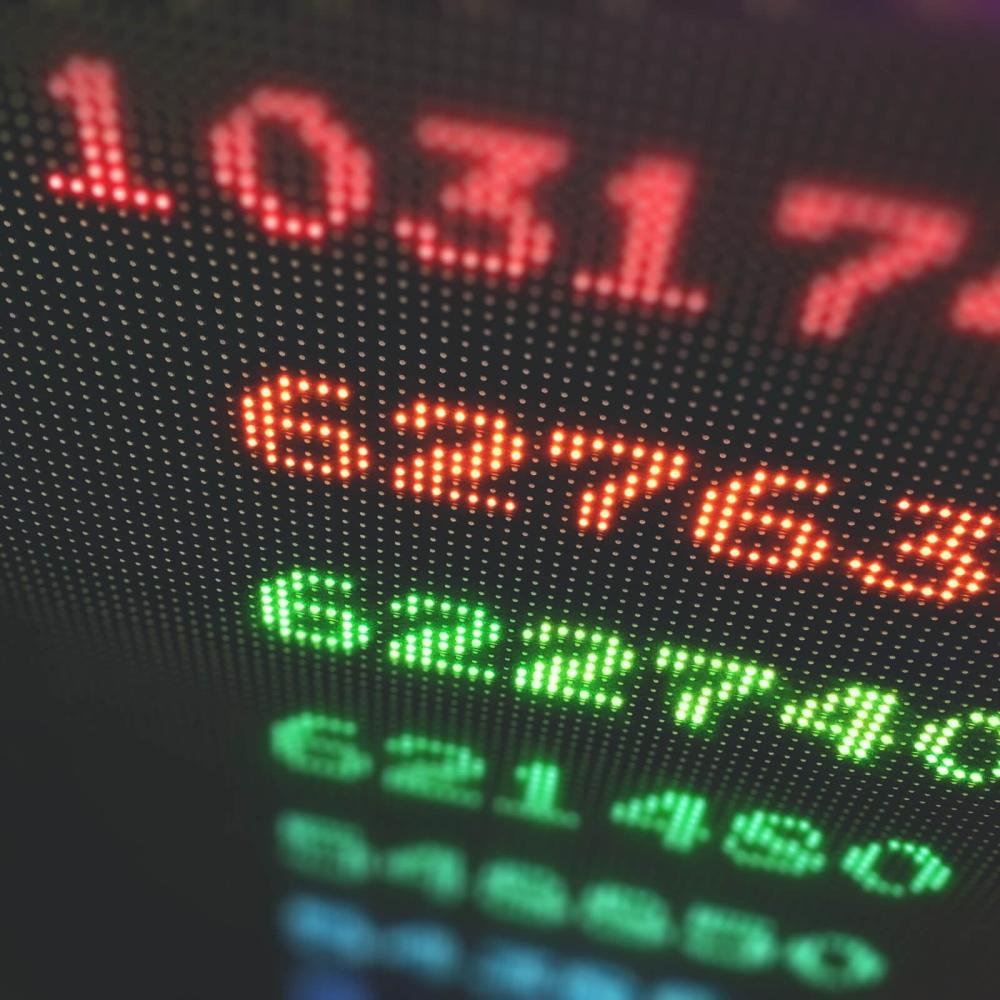 As part of our Industry Pulse Check, leaders in the pharma industry told us who they consider the most innovative companies in relation to digital health
The average score across the board was just 2.05/5, suggesting a perceived lack of innovation in the industry. Roche topped the table with a score of 2.96
Overcoming barriers, such as an unclear RoI for digital health initiatives, is vital for the development of digital health in the pharma industry
As 2022 was drawing to a close, we sent out an Industry Pulse Check survey to gather the views of industry leaders on topics relating to digital health. In this post, we look a little closer at one question that caused a bit of a stir: which pharma companies are the most innovative in their use of digital health tools?
Click here to jump to the Pharma Innovation Table.
Pharma & Digital Health: Who are the Innovators?
As part of our Industry Pulse Check survey, we asked industry leaders in our network to rate the top pharma companies on a scale of 1 to 5 for the innovative use of digital health tools (5 being very innovative). Overall, 409 votes were cast, with an average score of 2.05. This low average score suggests there is a perceived lack of innovation across the entire industry.
Regarding individual pharmaceutical companies, out of those to receive at least 15 votes, Roche came out on top with an average score of 2.96. Novartis (2.76) and Pfizer (2.52) completed the top three.
In a LinkedIn Live event, smartpatient's Head of Pharma, Ira von Arnim, said the results reflect a commitment among those companies to advance their digital capabilities that comes from the very top.
"It does resonate based on the work we do with pharma," she said. "I think there was an urge to catch up with the digital train. When I look at the top companies like Roche and Novartis, they've really made this management priority."
At the other end of the table, AbbVie scored an average of 1.48, GSK scored 1.47, and Bayer scored 1.15.
When asked about the companies that ranked lower, Ira said: "It might not have come as a total surprise. But if we look at AbbVie, for example, they were very innovative early on with AbbVie Care, which was a huge success. But it is a particular challenge to an innovator, once you've already established a certain standard, it's difficult to move beyond and pick up on even newer trends."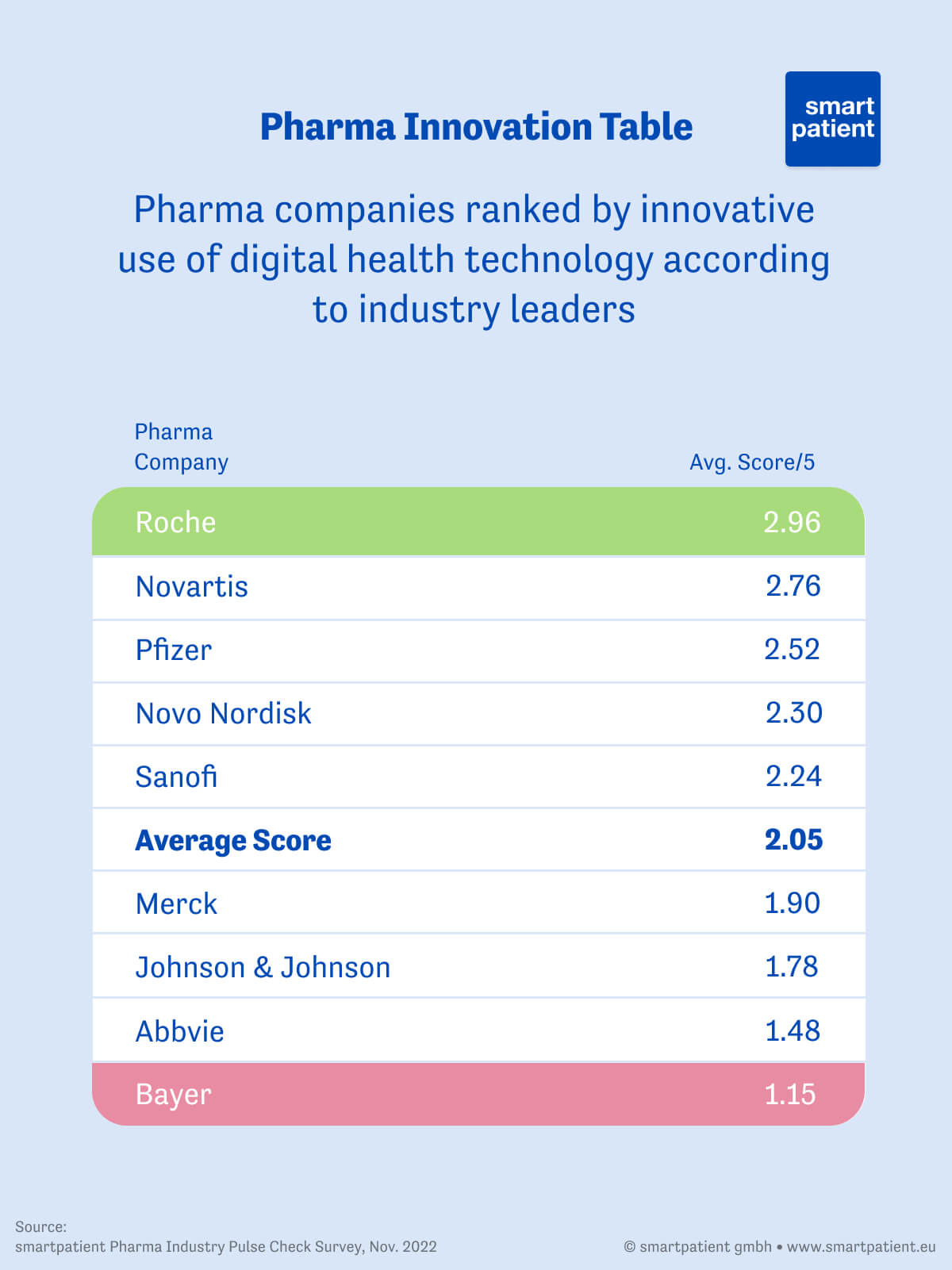 The Challenges for Pharma
Following on from the discussion regarding the rankings, one of the issues that were talked about in the LinkedIn Live event was the challenges pharma companies face in developing their digital capabilities.
In particular, the topic of an unclear return on investment was discussed, which respondents to the Industry Pulse Check consider to be the biggest roadblock for pharma achieving its ambitions in the digital health space. The key to overcoming this obstacle is to have KPIs that can measure impact in place from the very beginning.
During the LinkedIn Live event, Ira said: "We can only advocate for getting your set of KPIs right before implementing a solution. We've seen in the past that solutions and products are implemented and then everyone starts thinking "how can you measure this?" and "how can we prove it has a positive RoI?". We believe it needs to be the other way around. You need to have at least a hypothesis on how to measure RoI in the first place, then you go and measure how it works on a patient level, then prove uptake and try to reach as many patients as possible.
"I think we have a good way forward with that. We have a set of KPIs that are very similar across pharma partners today. There are always a set of bespoke KPIs but our standard reporting is a good start and lays a good foundation."
When asked which KPIs are generally the most important, Ira said: "The three most important ones, from my perspective, are the number of patients you support, so uptake. Then it's the impact on adherence and patient satisfaction."
Discuss How Building on MyTherapy Can Drive Your Digital Ambitions
If you want to speak to us about how you can achieve your digital ambitions by building on MyTherapy and help overcome the obstacle of an unclear RoI, don't hesitate to book a meeting.