One Billion MyTherapy Intakes Analyzed: How Do Different Countries Compare?
For nearly a decade, people around the world have used MyTherapy to manage their medications and health, generating over 1.3 billion intakes. In this article, we look at some of the data generated to gain insights into how people in different countries use the app differently to meet their daily needs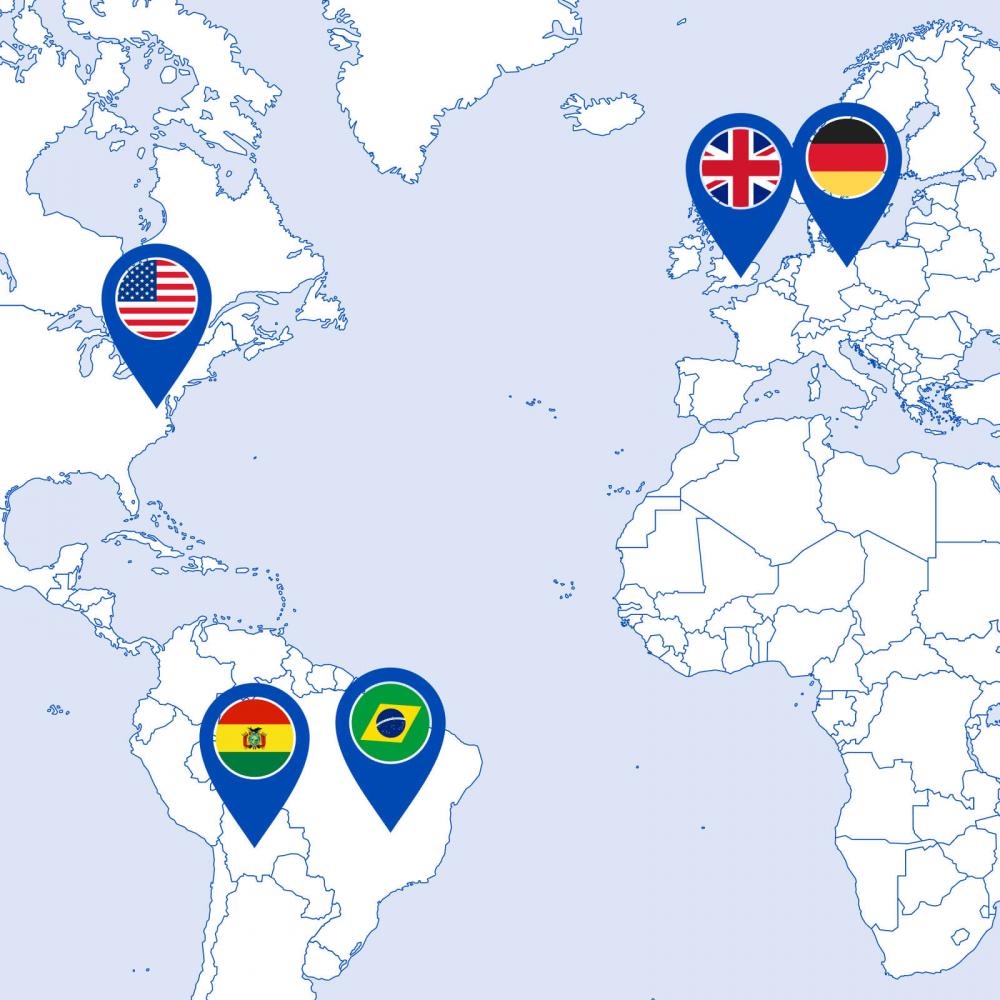 Over 1.3 billion medication intakes have been confirmed by MyTherapy users
Analyzing this data reveals how users in different countries use the app differently, including the number and type of reminders they schedule
Building digital patient support on MyTherapy can help pharma deliver more effective and engaging programs that meet local market needs
Millions of people use MyTherapy to manage their medications, with users engaging with the app around six times per day on average. Between them, MyTherapy users have scheduled over 13 million reminders, resulting in over 1.3 billion confirmed intakes. In a previous post, we identified some global insights based on the entire dataset. In this post, we dig a little deeper into different markets to see what (if any) differences exist from one country to another.
Users in South America Receive the Most Medication Reminders
MyTherapy users around the world receive an average of 1.6 medication reminders per day. However, it is users in South America that tend to receive more daily medication reminders than elsewhere in the world. The average number for users in Peru is 1.78, rising to 1.81 and 1.82 for users in Brazil and Chile respectively. Users in Bolivia receive an average of 1.9 medication reminders per day. The majority of other countries on the continent have an average of roughly 1.8.
In Europe, the numbers drop quite significantly. In Italy, Germany, and France, the numbers fall to 1.32, 1.37, and 1.44 respectively. In the US, users receive just under 1.5 medication reminders per day.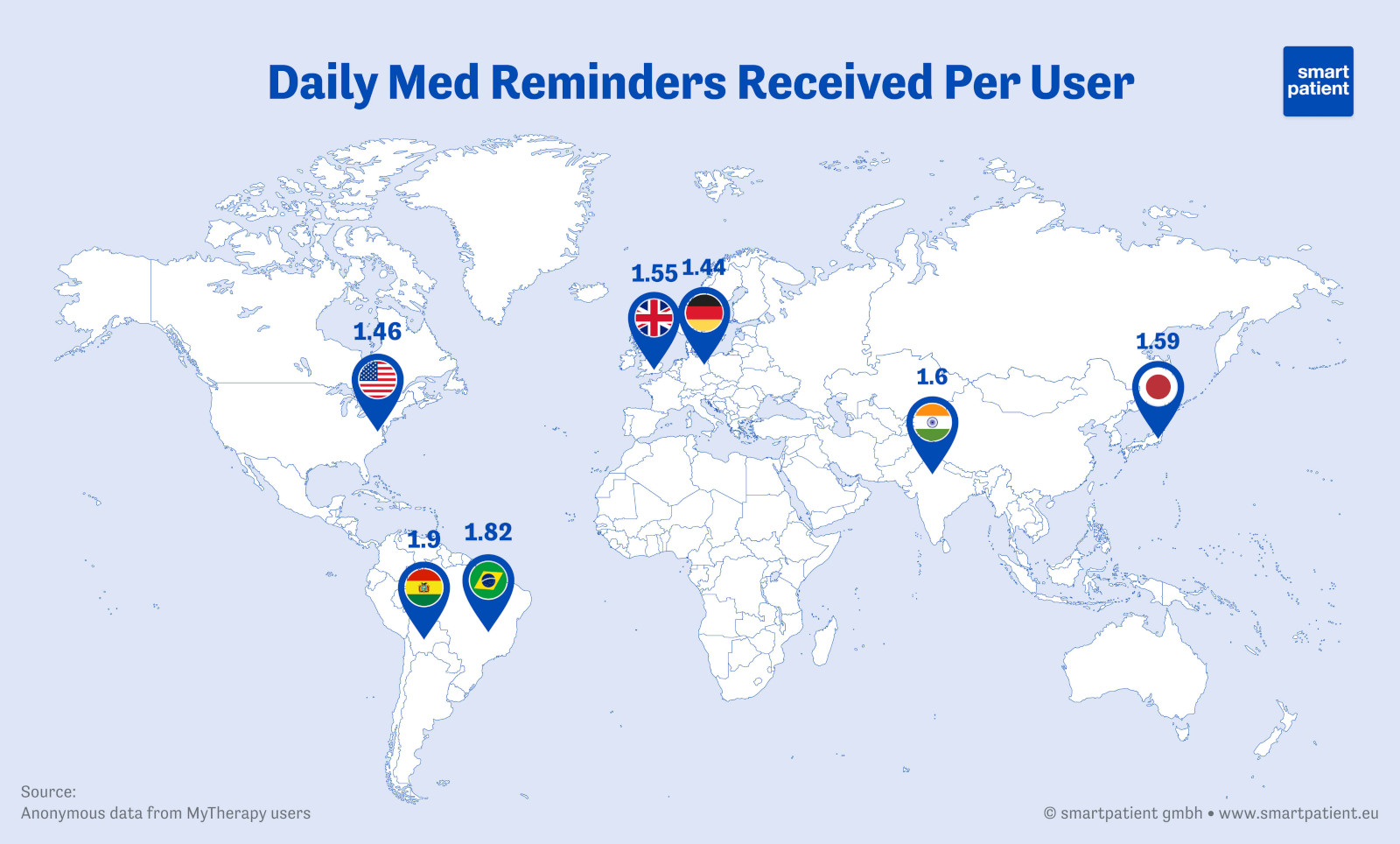 Looking at a handful of other countries around the world, including Mexico, Japan, and Australia, the number usually falls between 1.4 and 1.7, making South America the clear outlier when it comes to the number of medication reminders users are receiving.
Most Users Create Custom Medication Reminders (Apart from Germans)
MyTherapy users can choose from dozens of national medication databases, including those from countries with the highest number of users. When a user begins typing the name of their medication, matching items from the database will appear. Users can pick one of the suggested results or simply create a 'custom' medication based on what they have typed.
Users in Germany are by far the most likely to choose medications from the database, with 60% of reminders chosen from the list. The number drops to 45% for the second-highest country, the UK. In every leading market other than Germany, the majority of medication reminders are custom-made.
In Brazil, Mexico, and Spain, over three-quarters of medication reminders are custom. In Chile, the number is as high as 85%.
Brazilians Use MyTherapy to Track Measurements, The Japanese Less So
Aside from medication reminders, people can use MyTherapy to track measurements such as blood pressure, heart rate, and blood sugar levels. Globally, an average of 1.58 measurement reminders are scheduled per day.
Among the countries where MyTherapy is used the most, users in Brazil use this feature the most with an average of 1.95 measurement reminders per day. At the other end of the scale, users from Japan have only 1.38 measurement reminders scheduled, while those in Germany, the US, and the UK are roughly in line with the global average.
Users in Germany are, however, the most likely to schedule activity reminders, with users in Japan again the least likely to make use of this functionality.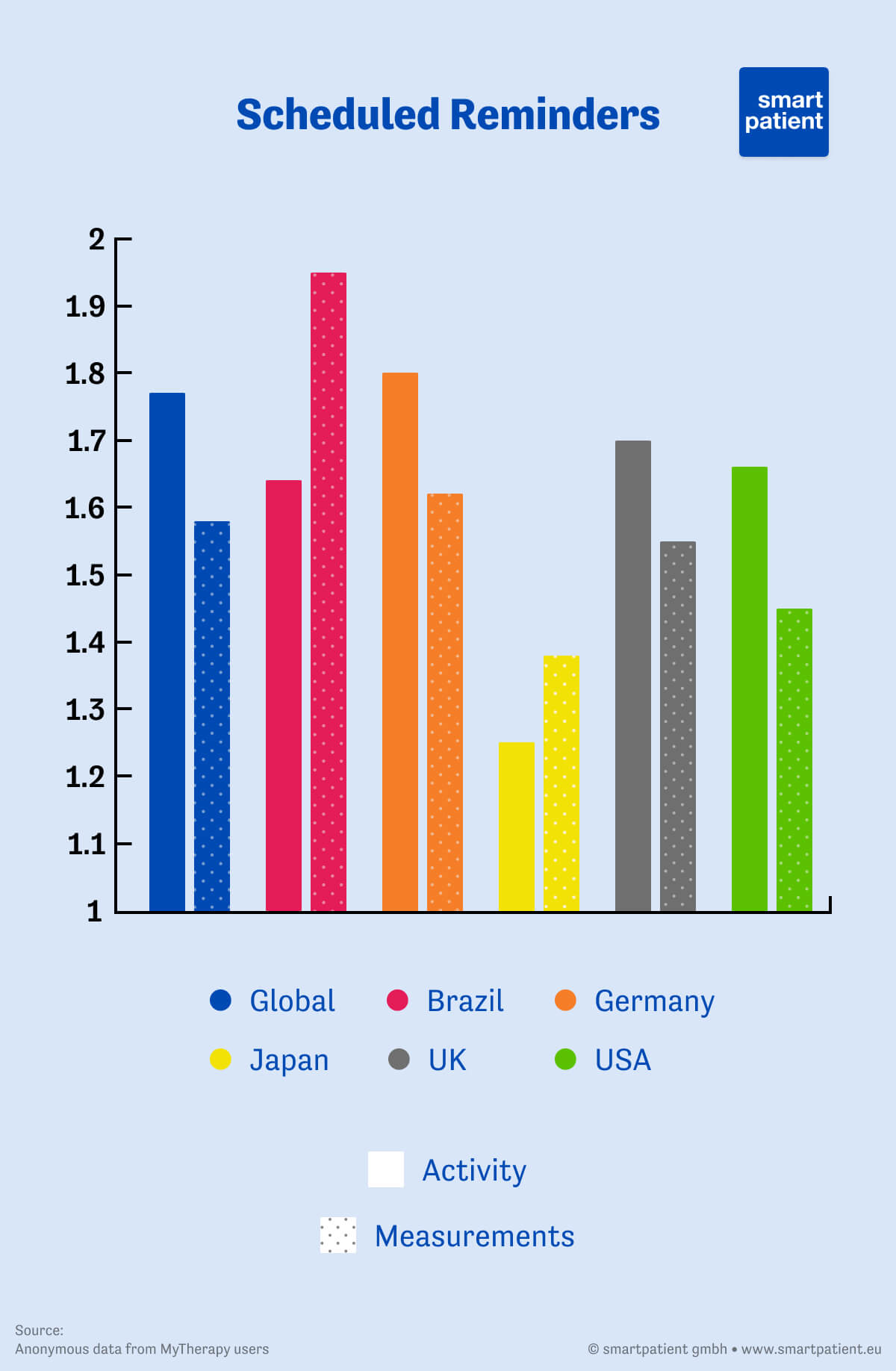 Different feature usage in different countries reflects how local market needs must be taken into consideration when launching digital patient support programs; it's a topic we've mentioned in previous blog posts, such as this one about launching digital PSPs in Latin America.
Pharma: Building on MyTherapy to Deliver Global Patient Support
These insights were uncovered by our data science team looking into the huge quantity of information generated by MyTherapy users over the last 8 years. The data is completely anonymous and cannot be used to identify any individual user; however, we are able to use it to understand how people use MyTherapy. In this instance, the data science team created a dashboard that included details of the different types of schedulers people use, different intake patterns, how many scheduled reminders have end dates, and many other charts and graphs. The data can be filtered by aspects such as platform (iOS or Android), language, and region.
Digging into this data doesn't just uncover interesting tidbits, it reveals specific information about users living with certain diseases, taking specific medications, and living in different countries.
This information helps us work together with our pharma partners to deliver effective and engaging digital patient support on our MyTherapy platform. In doing so, patients can benefit from the broad range of features MyTherapy has to offer, along with tailored drug- and disease-specific support. If you want to speak to us about the data we collect with MyTherapy and how you can provide leading patient support to your patients, don't hesitate to get in touch.