Merck and Smartpatient: Working as Partners for Effective Digital Patient Support in Multiple Sclerosis
Merck and smartpatient's long-term partnership and a platform-based approach resulted in adveva®, a support offering for people living with multiple sclerosis that is second-to-none when it comes to engagement and international scale.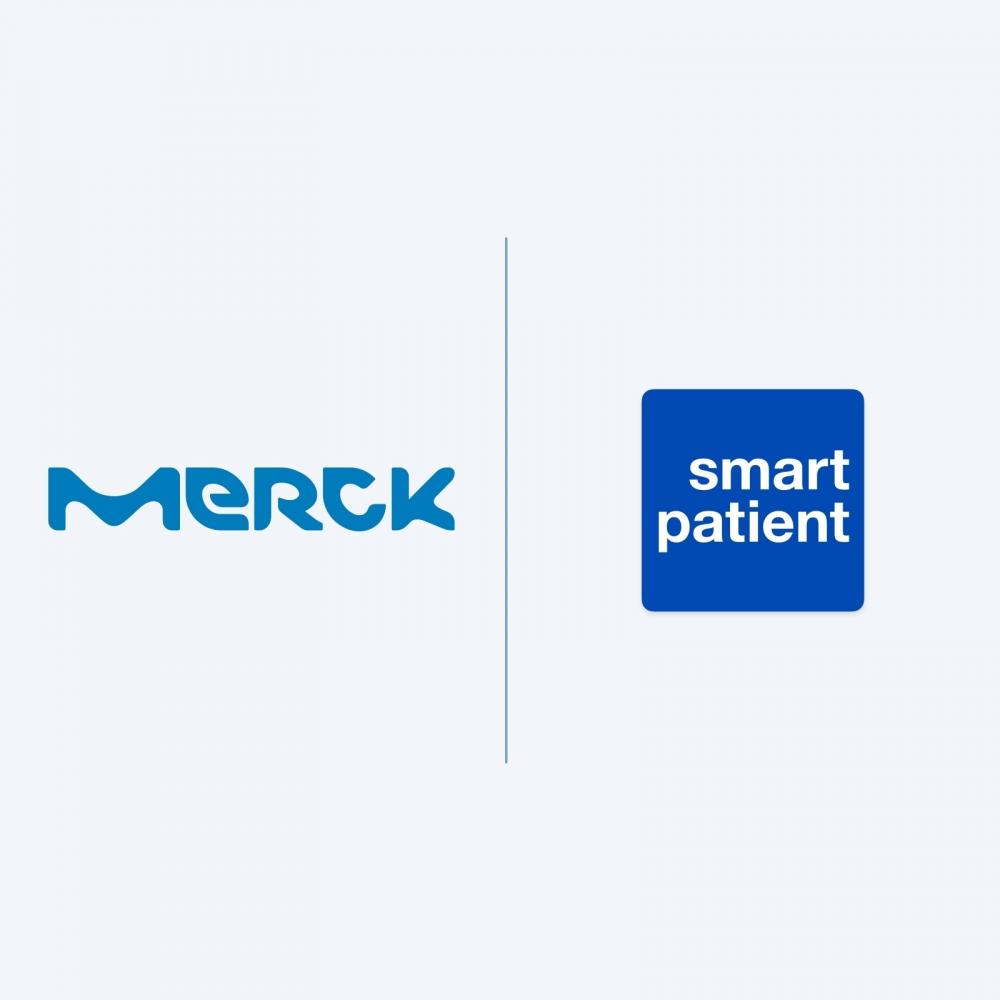 In 2017, Merck decided to build on the MyTherapy platform for developing and running adveva®, a digital multichannel support offering for patients who have been prescribed Merck's MS products
Since its launch, mobile has become the primary digital channel for patients, and the app the centerpiece of adveva®. Today, MyTherapy sees more than 100 million engagements every month
Merck and smartpatient's partnership has been at the heart of the adveva® program's success, enabling not only a high-quality initial offering but allowing for continuous, agile improvement
Patient support needs to be available at the time patients need it through the channels they prefer. Today, these are digital channels – first and foremost, mobile. The challenge is all about creating a mobile offering that is actually used. Next to a deep understanding of patients' needs, this requires creating an experience so good that patient interact with it every day. These levels of engagement are typically the result of countless iterations and improvements – and thereby a challenge for pharma's project- and agency-centric approach. For its neurology franchise, Merck, therefore, opted for a different operating model. Read how the combination of a platform-based approach and long-term partnership with smartpatient resulted in adveva®, a patient support offering that is second-to-none when it comes to engagement and international scale.
An Unmet Need for Personalized Support
Multiple sclerosis is sometimes referred to as the 'disease with a thousand faces.' Disease progression and symptoms vary greatly among patients and navigating life with MS can mean very different things to different people. In 2016, when preparing for the launch of its oral MS medication, Merck conducted interviews with more than 100 MS patients across different geographies. One key finding: Patients often struggled to find information and support that they deemed personally relevant.
But helpful guidance was not only an unmet need for patients: Doctors and nurses are typically committed to treatment success. They want their patients to be adherent, health-literate, and engaged. However, time and resources are often highly constrained and make it challenging to deliver to this level of ambition.
"Doctors and nurses sometimes struggle to find the time to personally handhold patients who need support. They are looking for an additional, scalable means to convey relevant, high-quality information, and support at the moment when it matters."
– Michael Hübschen, Medical Director Neurology & Immunology, Merck Germany
From their long-term work with HCPs, the Merck team knew that their sought-after solution would need to deliver on several fronts. It had to be personalized to meet the needs of patients and grounded in medical insights and behavior change theory, thus allowing doctors and nurses to focus more on the holistic care of the patient and their MS, rather than treatment management.
Adveva®: Making Adherence Actionable for Patients and Doctors Alike
Adveva® started with solutions to both challenges: Providing relevant guidance for patients and equipping HCPs with a tool to support adherence and improve education.
For patients prescribed Merck MS medications, adveva® provides access to support and relevant information when it matters, as well as tools to easily keep track of their treatment – even beyond MS. Support for multiple channels and smart algorithms means that patients receive the right support and information through their preferred channel at their time of choice. Instead of being squeezed into an MS-patient stereotype, they receive helpful tips and inspiration on living their best life possible. Treatment information that is easy to understand guides patients through safely administering their medication, from correctly handling their tablets or injections to understanding how to handle a missed dose.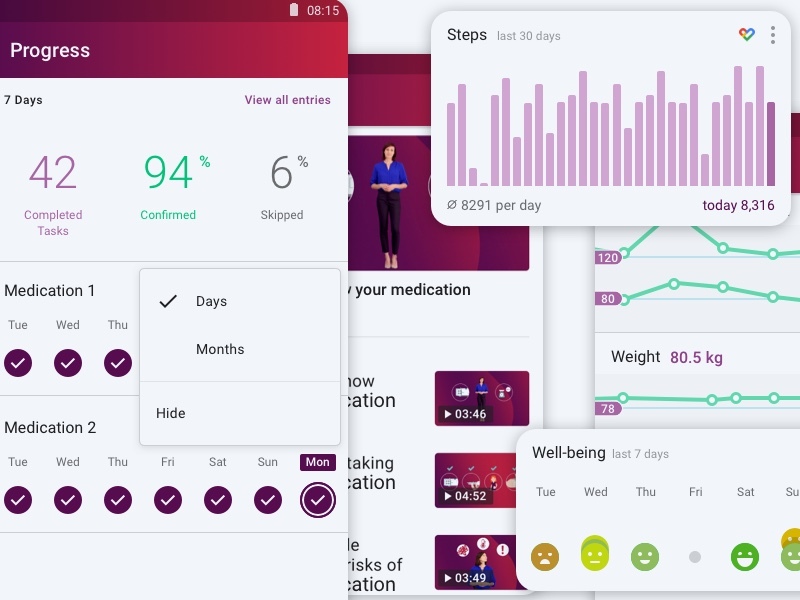 For doctors and nurses, adveva® is first and foremost a simple and easy way to provide patients with another source of guidance and adherence support. Anytime-access to relevant information provides an additional safety net, be it through instructional videos on safely handing their medication or simply through tips for living their life with MS. Reminders keep patients on track and the built-in diary facilitates discussions on their treatment. The possibility to use the offering without registration avoids privacy headaches and minimizes the barrier to use. Finally, the sheer quality of the services and the contents, combined with a pleasant, consumer-grade brand and appearance sparks curiosity rather than disease associations.
The Adveva® Module within MyTherapy: A New Operating Model for Digital Patient Support
From the start, the app was a cornerstone of adveva® and was designed as the primary interface for day-to-day interactions. To this end, Merck decided to implement adveva® as a module within MyTherapy. Instead of starting from scratch, adveva® users get all the features of MyTherapy PLUS specific support elements and contents of adveva®. Merck patients can benefit from its proven features and receive a highly relevant daily companion that they can use to comprehensively manage their treatment beyond a specific medication.
For patients and Merck alike, this modular approach is paying off. With every app update of MyTherapy, adveva® benefits from further refinements, improvements, and new features. At the same time, the adveva® module itself continuously evolves based on real-world patient needs. While the first version still assumed nurse support, the program developed with users' preferences. Today, the app has evolved into the centerpiece of adveva®, allowing patients to self-administer their treatment and combine digital support and nurse support as needed.
Building on its success as a program for patients on short-course oral therapy, adveva® was rolled out to include patients on Merck's injectable MS drug. Both patient groups benefitted from the development of a more sophisticated tracking of treatment progress, while patients on the injectable have the added advantage of being able to connect RebiSmart®, Merck's smart injection device.
From the outset, adveva® had the ambition to scale across many markets. Next to the scalability of the MyTherapy platform, configurability for local markets was key. Michael Hübschen recognizes that individual markets benefit from this level of customizability.
"While the disease is the same around the world, care delivery and regulation can be quite different across markets. adveva® stands out as a global initiative that got the need for local configuration right from the start."
– Michael Hübschen, Medical Director Neurology & Immunology, Merck Germany
The Platform Dividend: How Merck Patients Benefit from Two Levels of Product Evolution
Next to the specific evolution of adveva®, Merck patients have benefitted from every upgrade of MyTherapy based on the feedback and usage behavior of millions of MyTherapy patients. Over the past years, new features such as injection site tracking or browsable in-app contents immediately benefitted adveva® users.
Often, it is not the mere feature, but the quality of its implementation that adds value. MyTherapy supports >30 languages, including those written right-to-left. Every feature is designed for accessibility and can be used by people with visual impairments. The app – and thereby adveva® – even supports operating system-specific features, such as widgets on iOS 14 or dark theme on Android.
The value of continuous product development clearly shows in MyTherapy's numbers. Every year, millions of users download the app. The typical user manages several medications in the app and is active between 3 and 6 times a day. Overall, users are engaging with MyTherapy more than 100 million times every month.
Research is another area where there are benefits to a platform-based approach. Studies by reputable research hospital Charité Berlin showed an improvement in adherence and subjective well-being of patients during app-based self-monitoring with MyTherapy. This clinical evaluation can give HCPs the confidence that their patients are in good hands. The additional guidance and confidence regarding upcoming and performed intakes can be particularly beneficial for patients on short-course oral therapy, who may experience anxiety about the intensity of infrequent but precisely planned treatment cycles.
The Upshot: The Three Ps of Successful Digital Patient Support
Merck was one of the first pharma companies to take an engagement view of patient support and, accordingly, innovate when it came to opting for an operating model. By now, others have followed. The successful players are united by consequently focusing their attention on the three "Ps" of successful patient support:
Platform: Too often, brand managers still believe that their patients' needs are unique. While this may be true for product-related needs, on a disease, or even overall treatment level, it is typically not. Building on top of a proven platform saves the money and time for building the basics from scratch, brings the benefits of years of iterations, and allows pharma to focus its efforts on where it can truly create value: Product-related support.
Product mindset: In digital, the release of the first version is where the real work begins. Only based on real-world feedback and usage data you will fully understand user needs – and can start refining the experience. For this very reason, digital projects often fail. They are not sufficiently resourced for months and years of refinement. Instead, digital takes a product mindset: While projects finish sooner or later, products always evolve.
Partnership: Patient engagement requires specific capabilities and resources – and there is no need to do it alone. Smartpatient's partnering model with pharma is designed to enable a program's long-term evolution, leverage economies of scale that we can realize across partners, and protect a partner's specific IP.
This is where we can help with our proven platform, capabilities, and operating model. If you are interested in learning how the MyTherapy platform can deliver high-quality support for your product, please get in touch.