Clinical Research in DTx Development: Our Experience and How Partners Can Benefit
From our early days we were convinced of the importance of clinical evidence for establishing digital interventions. Read how we are evolving our evidence-based approach, as clinically-proven outcome impact transitions from 'nice-to-have' to 'must‑have'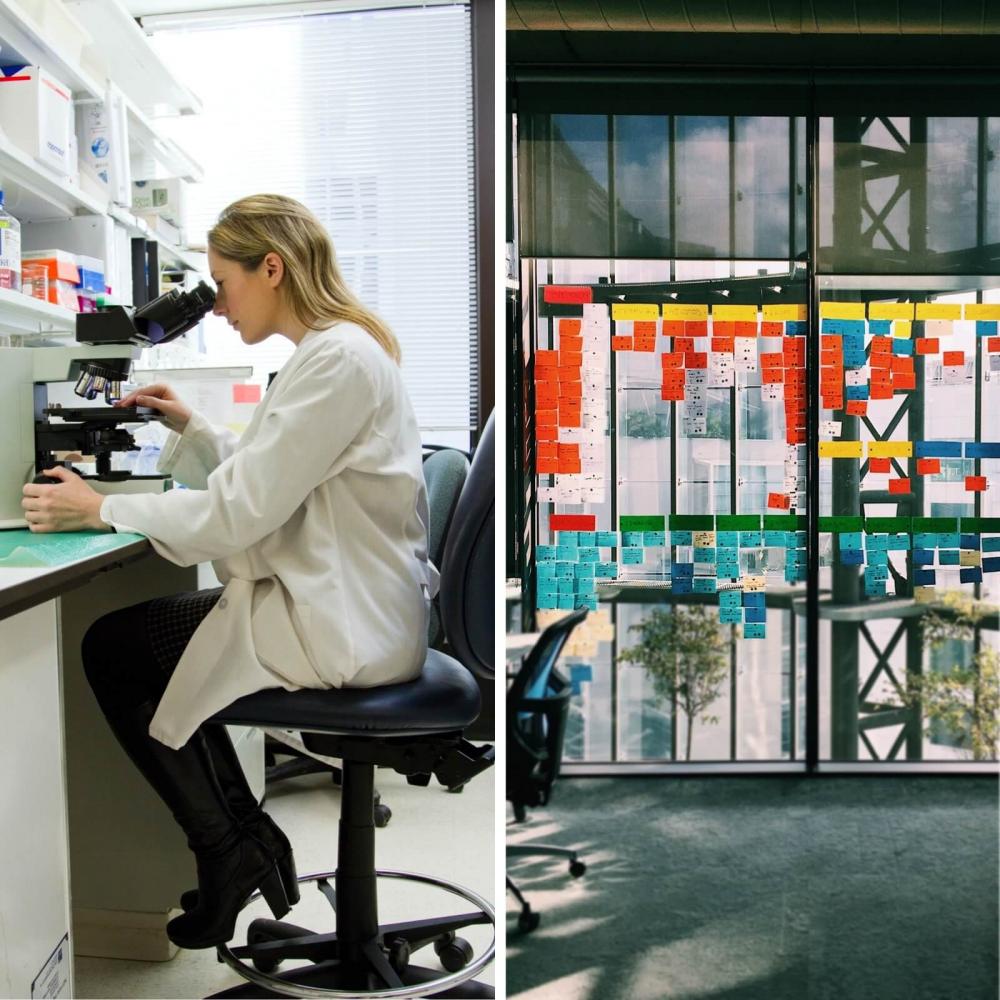 From the inception of MyTherapy we invested in the generation of evidence, strongly relying on collaborations with research partners such as Charité
We used our early studies to show MyTherapy's impact on adherence and to advance our research methodology for clinical and UX research, alike
As the DTx category is taking shape and MDR raises the bar for clinically evaluating SaMDs, our research focus evolves towards measuring outcome impact
Recently, the terms 'digital therapeutics' (DTx) and 'digital health' have become increasingly well-defined. Digital Therapeutics in particular are associated with a clinically proven impact on health outcomes. In 2013, when we dreamt up MyTherapy, these clear categories did not exist. Still, already back then, we realized that an evidence-based approach was essential to establishing an app capable of improving patient outcomes.
Our research started with a focus on medication adherence. Seven years later, we are entering the era of Digital Therapeutics, and our research focus is moving to health outcomes: We believe that an impact on adherence does not make a digital offering a Digital Therapeutic.
Today, we are seeing a double dividend from our foresight and experience in evidence-based product development: Firstly, with MyTherapy, we have not only a highly accepted, but also an evidence-based Operating System on which we can deploy DTx. Secondly, our methodology and experience guide our research efforts.
Developing MyTherapy with Support of Charité
Charité – Universitätsmedizin Berlin, one of the largest university hospitals in Europe, has been a key partner in the development of MyTherapy and has generated evidence to support the app's ability to support different groups of patients.
We have worked with Charité for over 5 years now, dating back to a time when MyTherapy was in its infancy. Some of the early studies involved geriatric patients and people living with type 2 diabetes.

Aside from significant improvements in medication adherence, as demonstrated in the above table taken from a 2016 study, Charité's research has found improvements in lifestyle areas such as nutrition, water intake, and physical activities. You can find studies performed by Charité that involved MyTherapy here:
The nephrology and internal intensive care clinic at Charité performed a prospective randomized controlled trial among 148 kidney transplant recipients involving MyTherapy, which focused on medication adherence and patient education. The high pill burden after a transplant and poor knowledge of their medications pose serious challenges for kidney transplant recipients.
After 6 months, the app group remembered approximately 56% of their medication exactly, compared to 43% among the control group. Those who used the app for 12 months did so over 10 times per day on average, demonstrating high levels of engagement.
"The findings of this study indicate that especially medication adherence and nutrition can be improved by using a smartphone application for self-monitoring."
– Steinhert, et al., 2016
Usability Studies Involving MyTherapy: Another Piece of the Puzzle
The studies cited above are among those that have allowed us to develop MyTherapy with an evidence-based approach and gain greater insight into the features that work in the real world. These types of studies are particularly useful in helping us understand human behavior and allow us to identify behaviors we can target, such as adherence, that can improve patient outcomes.
Furthermore, studies focused on topics such as design and usability help us understand how we can improve patient engagement and make the interfaces of MyTherapy and partner apps as intuitive as possible. We follow 'accessibility by design' principles, which means that accessibility goes beyond supporting features such as TalkBack and VoiceOver; rather, accessibility is considered in every aspect of design, aiming to make the entire app usable for as many people as possible.
Carmody, et al. (2018), from Cincinnati Children's Hospital Medical Center in the U.S., evaluated medication adherence apps for use among adolescents and young adults with chronic diseases. The study evaluated apps based on multiple factors, including usability and the number of behavior change techniques (BCTs) embedded in the apps. Among 75 medication adherence apps reviewed for BCTs, MyTherapy ranked second on perceived impact. In addition, MyTherapy was the recommended app for young patients who want to go beyond medication reminders to manage appointments, track symptoms, set lifestyle goals, and share their progress with caregivers.
We have since increased our focus on implementing behavior change techniques into MyTherapy and our partner programs. You can read about these scientific developments here:
We have seen a proliferation of usability studies in recent years. Models that help researchers determine the quality of apps have become increasingly established, such as:
Mobile Application Rating Scale (MARS)
Researchers identified over 350 criteria for assessing app quality and refined them into the Mobile App Rating Scale (MARS). It contains 23 items that are designed to assess engagement, functionality, aesthetics, and information quality. Variations of the scale are also used, such as a 26-item User Mobile App Rating Scale (uMARS), which is based on testing done by end-users rather than researchers.
System Usability Scale
The System Usability Scale (SUS) is a tried and tested method for assessing usability that dates back to the 1980s. It's a simple, 10-item questionnaire that is often described as a "quick and dirty" evaluation, yet its simplicity and dependability have helped it stand the test of time. The principles that were relevant when SUS was developed are every bit as relevant in today's world of mobile apps.
Nielsen's Heuristic Evaluation
A heuristic evaluation is designed to inspect the user interface (UI) design of software. Nielsen's heuristics, which involve evaluating 10 areas of UI design, is among the most commonly used sets of criteria.
Usability Testing Environment
Organizing a usability testing environment (UTE) allows researchers to observe volunteers as they attempt to perform planned tasks with apps. Whereas other models have defined criteria, well-designed UTEs enable researchers to gather qualitative feedback about aspects most relevant to specific apps.
Examples of studies that have used such tools to analyze MyTherapy and other apps can be found here:
"MyTherapy emerged as the runner up in usability testing. [...] This app may be preferable for users looking to track and schedule more than just their medications."
– Carmody, et al., 2018
The diversity of clinical trials and usability studies involving MyTherapy, and the positive results they have produced, strengthens our conviction that MyTherapy and our partner programs can and do help people living with a range of conditions.
Winning in DTx: Using our Expertise and Platform to Generate Evidence for Partners
In a recent roundtable conversation, Bakul Patel, Director of the FDA's Digital Health Center of Excellence, astutely formulated a simple, though important truth: Getting a DTx reimbursed requires a proven clinical impact. This by definition requires a therapeutic intended purpose, which makes a DTx a software-as-medical device (SaMD) and puts it into well-regulated territory.
In simple terms, for any DTx, evidence is key for both, regulatory and market access.
Interestingly, the new European Medical Device Regulation (MDR), finally going effective in May 2021, combines those two aspects as well, explicitly requiring clinical proof for both, a device's safety AND its efficacy.
When working with partners on DTx, we strongly push for making clinical evaluation a workstream from the start. Depending on a partner's competencies and needs, we are taking an active role in this workstream: Beyond contributing our experience and network in designing a clinical evaluation plan, we can leverage the MyTherapy platform and user base for accelerating studies through real-world data generation and digital patient recruitment.
Want to learn more about how we are working with partners, using MyTherapy as an operating system, our ISO 13485 certified processes, and our experience in evidence generation? Get in touch.