Engaging People Living with MS: Why We Are Designing for 'Users', Not 'Patients'
We've always argued that pharma's indication-centric paradigm is a key reason for patient support offerings not being adopted. Today, we are backing our case with real-world insights from >7,000 MyTherapy users living with MS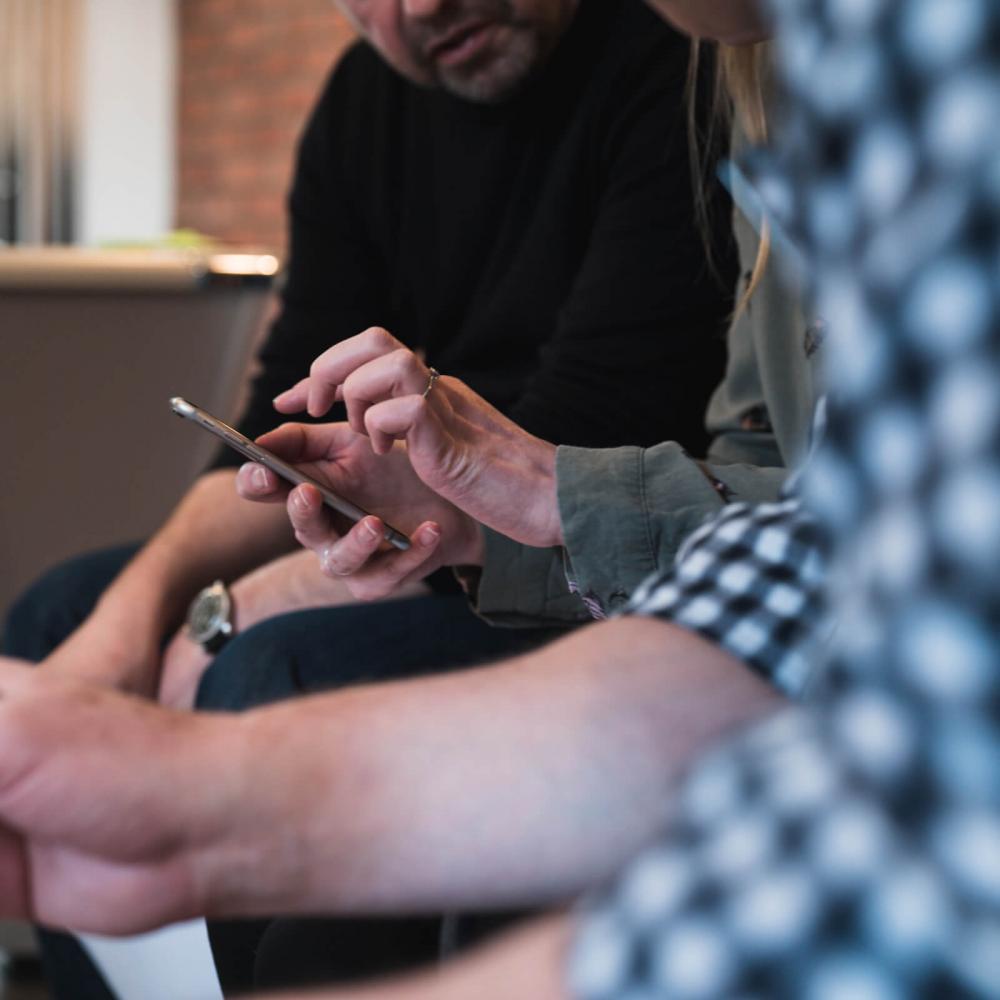 When preparing the launch of 'MyTherapy for MS' we analyzed real-world data of over 7,000 MyTherapy users taking MS medications. Most of them take co-medications not related to their MS.
Pharma has so far failed to embrace this truth. Rather than putting patients or even users first, they continue to apply their indication-centric paradigm to patient engagement offerings – and fail to generate meaningful adoption.
With their adoption-first route, new offerings like 'MyTherapy for MS' are well received by pharma. They help users to live well with their overall treatment while also having a need for disease-specific support.
Due to its incidence and the price of associated medications, multiple sclerosis has received a lot of attention when it comes to patient support programs and patient engagement. Adoption has remained low, though. It seems this is not only due to pharma's lack of digital product development know-how; real-world data from thousands of our MS users suggests that pharma still fails to acknowledge that patients – unlike pharma itself – do not organize by franchise. Read on to find out why engaging MS patients requires not thinking about them as patients in the first place – and how offerings like MyTherapy for MS can provide turnkey solutions for both, patients, and pharma.
Real-World Data on MS: Don't Call Them MS Patients
Over 7,000 MyTherapy users have reminders for multiple sclerosis medications. Our data shows that those users also have an average of 3.9 additional reminders. Among the most common reminders are those for vitamin D, symptom tracking, and pantoprazole – typically used to treat heartburn, acid reflux, and gastroesophageal reflux disease (GORD). Furthermore, many users track blood pressure and weight, while treatments for thyroid deficiency (levothyroxine), epilepsy/seizures (gabapentin – in the context of MS, usually used to treat dysesthesias), and depression (citalopram) are each used by over 100 users. Additionally, other MS treatments, such as Fampyra (fampridine) highlight the prevalence of combination therapies being used.
Altogether, there were over 7,500 different reminders set up among the userbase, many of which are used by dozens or hundreds of users.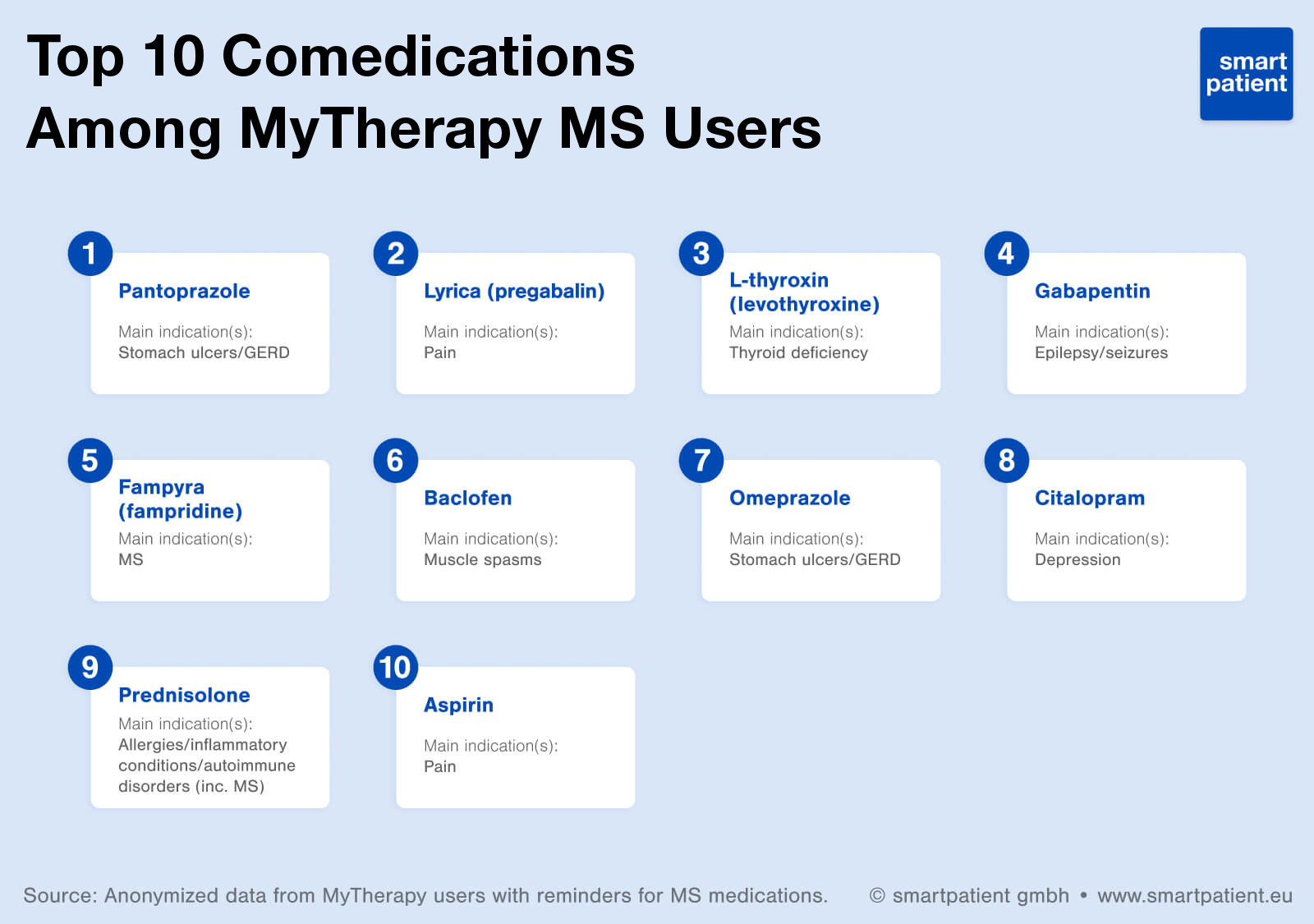 When it comes to some of the major MS drugs, Tecfidera (Biogen) and Rebif (Merck Serono) users have an average of roughly 2.7 additional reminders, while Gilenya (Novartis), Copaxone (Teva), and Aubagio (Sanofi) users have around 3.5.
These figures are no great surprise; it is well-known that the prevalence of comorbidities alongside MS is high, while users we have spoken to throughout the development of MyTherapy have regularly told us that their needs go beyond the direct effects of MS.
The upshot: Most people who take MS medications are living with comorbidities. Many are experiencing phases of the disease where they are living their lives and may not feel like patients at all. In this context, the product-market fit of any 'MS patient support offering' seems limited. But as the next paragraph shows, this is a lesson that each pharma company has to learn for itself.
Pharma's MS PSPs: Focusing on Disease or Drug but Neglecting the User
Today, digital patient support programs, such as app- and web-based offerings, are an expected part of the package when it comes to MS drugs. All too often, however, pharma will commission the development of a new app and focus heavily on multiple sclerosis or the specific treatment. The end result, more often than not, is an app that fails to engage users and is left largely neglected once launched. A case in point is Teva's Copaxone iTracker® 2.0 that, since being launched in 2018, has only around 300 reviews and has been updated only a handful of times.
Even when the app is developed well and fulfills the criteria, support offerings that focus so heavily on the disease or drug fail to address the array of additional ways people living with MS want to manage their health. Each person living with MS has their own challenges and requirements, whether that means managing comorbidities, support in keeping active, or tracking symptoms and wellbeing.
Too narrow a support offering simply acknowledges people as "MS patients" rather than individual users who have their own requirements.
Finally, despite their deep knowledge of the disease, pharma tends to overlook the challenges coming with the partially preventative nature of their treatment. People who have relapsing forms of MS, particularly relapse-remitting MS (RRMS), may not see the need for such a disease- or drug-focused offering outside of relapses. This can make PSPs a hard sell and can result in low levels of retention. And once a patient stops using the app, getting them back is even more of a challenge.
User-Centric and Relevant Beyond the Disease: Why Pharma Is Betting On 'MyTherapy for MS' et al.
At smartpatient, we have a long track record in multiple sclerosis, both in terms of users on the MyTherapy platform and global pharma companies working with us. Comprehensive, disease agnostic medication and adherence management has always been at the heart of what we are doing.
'MyTherapy for MS' is the first of an entire series of disease-specific support modules running within MyTherapy. For the first time, people can use one app for managing their entire treatment while still receiving specific information and support for one or even several diseases that they may be living with.
Judging from the market's response, 'MyTherapy for MS' hits a nerve with our industry partners. For the first time, they can tap into a truly engaged user base and leverage one and the same platform for educating the MS community AND for providing tailored support to their own patients in staying adherent safely administering their medication. Click here to learn more about MyTherapy for MS - or get in touch, if you want to learn more about our launch pipeline in further indications.