How Does Spiriva Compare to the Competition? Insight from Hundreds of Asthma Patients
A survey of nearly 250 MyTherapy users living with asthma revealed what patients think about asthma treatment. Find out what Spiriva users had to say, and how their views compare to users taking other treatments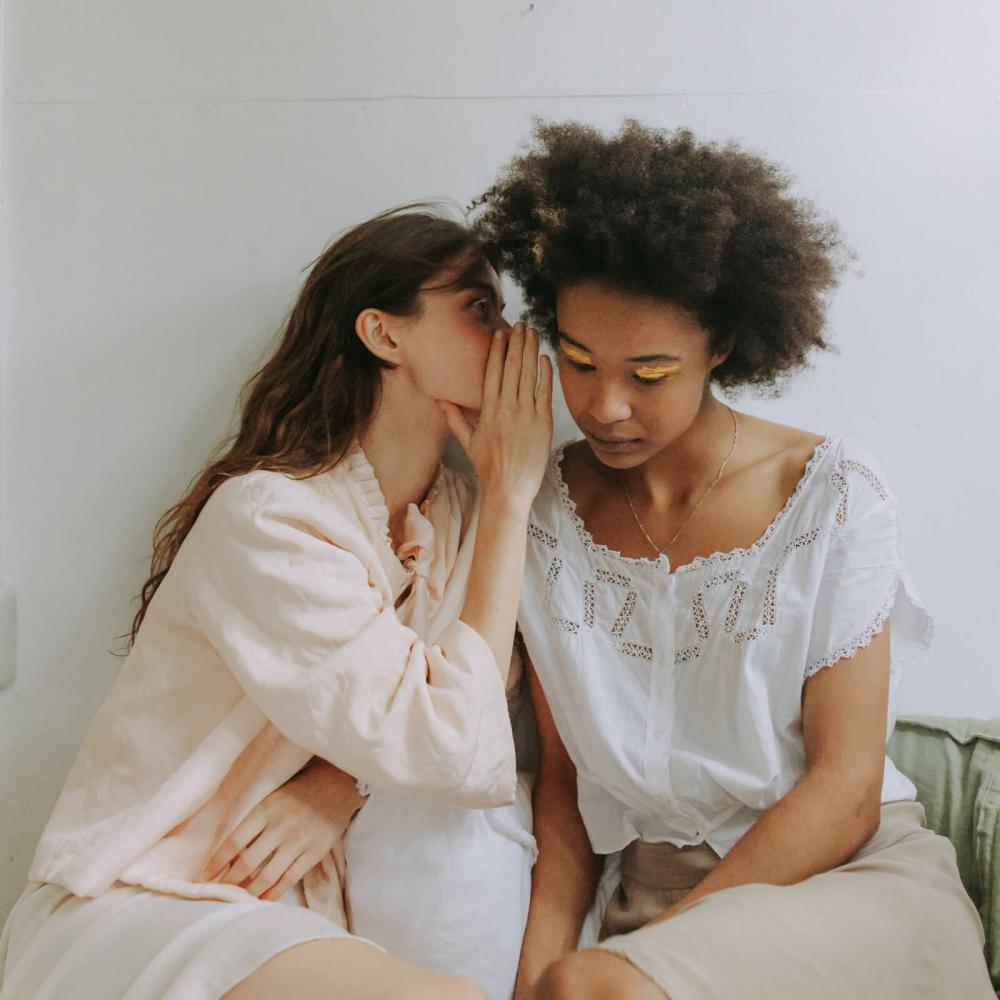 A recent survey among MyTherapy users living with asthma revealed views and attitudes towards treatment options, as well as insights into what users taking different treatments think
Spiriva users are extremely satisfied with the treatment. Nonetheless, they are keen for more information regarding alternative options
Patients' desire to learn about new treatments creates an opportunity for pharma close the asthma treatment gap through digital patient education
Pharma's history of trying to establish its own patient-facing channels is a history of failure. Educating patients through existing communities is a more focused path for pharma to achieve their goals
Thousands of people use MyTherapy to manage their asthma medication, including inhalable and injectable treatments. Having such a strong and diverse user base that engages with the app daily allows us to gain insight into the opinions and attitudes of people living with asthma. In our most recent survey, Spiriva was among the most common medications taken by respondents. How did their views and satisfaction compare to users on other treatments?
Spiriva Users Value Quick Symptom Relief More than Other Users
People taking Spiriva for asthma tend to live with a more severe form of the condition. More Spiriva users (19.4%) reported experiencing symptoms on a regular basis ("multiple times per day and often at night") than non-Spiriva users (14.7%) and only 44.4% of Spiriva users encounter symptoms relatively infrequently ("a maximum of two days and two nights per week") compared to 56.4% of non-Spiriva users.
As such, the Spiriva users' top treatment priorities differ from non-Spiriva users'. 52.5% of Spiriva users said quick symptom relief was one of their top three treatment considerations, making it the most chosen answer, compared to just over 45% of non-Spiriva users. For non-Spiriva users, easy administration of the therapy was the most important consideration.
In both cases, quality of life was in the top three most important factors, but it was chosen by nearly half of Spiriva users compared to a little over 40% non-Spiriva users.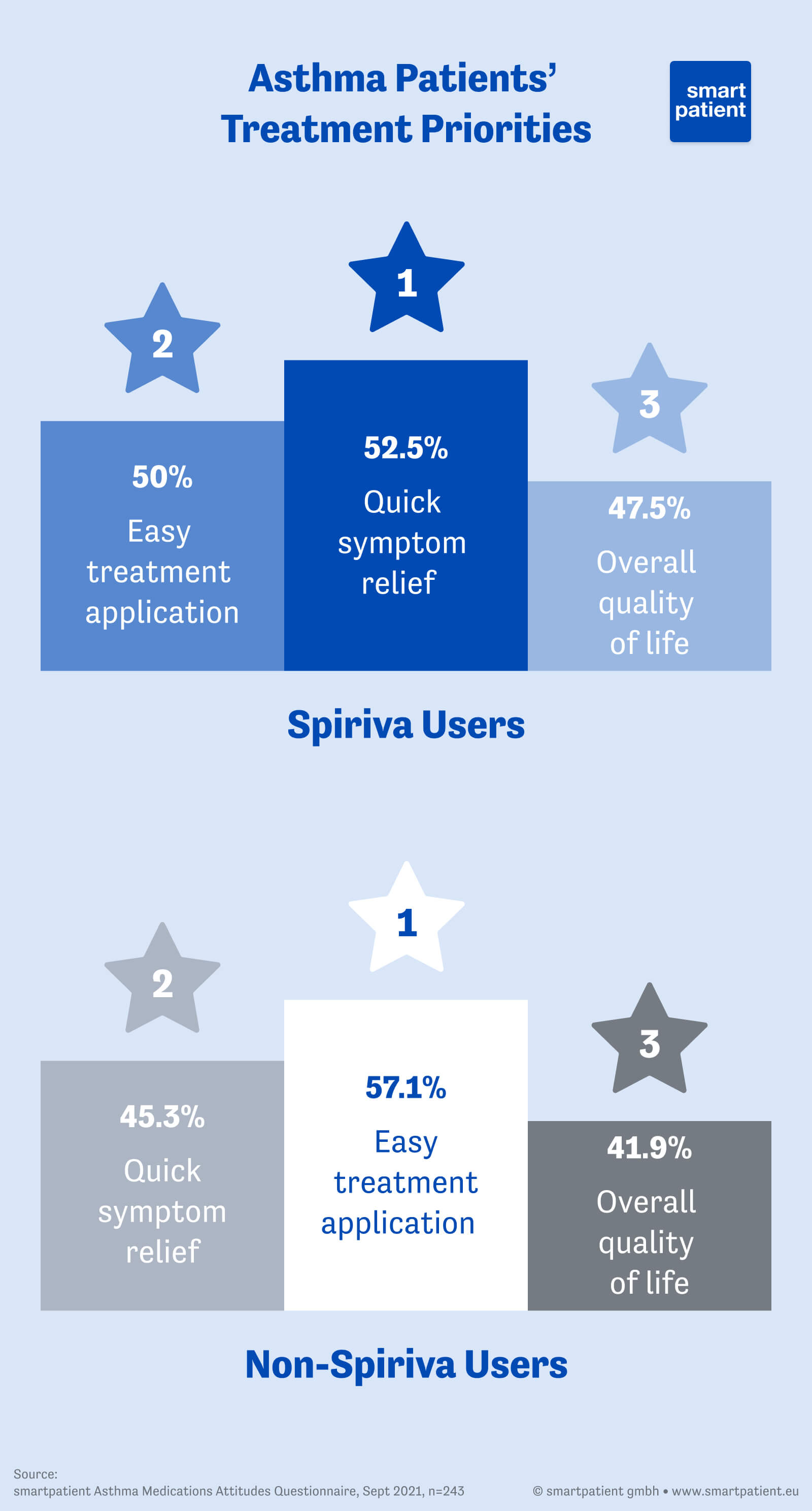 Spiriva Users Are Extremely Satisfied but Want More Info About Alternatives
Spiriva was among the top-performing asthma drugs when it comes to satisfaction. 80% of respondents taking Spiriva said they are satisfied with their treatment, while a further 17.5% are somewhat satisfied. The remaining 2.5% said they are not satisfied with their treatment.
For non-Spiriva users, satisfaction drops to 71.9%, with just over a quarter (26.1%) saying they are somewhat satisfied. The remaining respondents are either dissatisfied (1.5%) or are unsure (0.5%).
Despite being more satisfied with their treatment, Spiriva users are just as interested in receiving information about alternative options. In both cases, over half of respondents want to learn more about other treatments and a further third might be interested. Only around 15% of both Spiriva and non-Spiriva users are not interested in receiving such information.
Clearly, despite being satisfied with their current treatment, asthma patients believe that there can be an even better life with their disease. They want to learn about alternatives and appreciate information and education about other treatments.

Bridging the Asthma Treatment Gap Through Digital Patient Education
Are patients right? Should they look for better treatment options for their asthma? According to research, they should: Studies estimate that only for 50% of patients asthma is adequately under control - a phenomenon often referred to as the 'asthma treatment gap'. Closing this asthma treatment gap first and foremost requires doctors to be aware of a patient's asthma being uncontrolled. To that end, pharma has always had a focus on making physicians aware of new treatment options. But if this left us at an asthma treatment gap of 50%, what else can we do?
Obviously, there is a big opportunity in patient education: Empowering people living with asthma to articulate towards their HCP if they believe their disease is not under control. But while we are seeing patients become more active if not proactive in decisions relating to treatment, pharma so far has struggled to engage patients at scale. Many have launched patient-facing digital services but almost all of them have failed to gain traction. One of the reasons is that for years, pharma has focused on doctors as their customers. Often, engaging patients requires pharma to start from scratch not only in terms of building engaging digital products but also in achieving a service-market-fit for patients/consumers. Also, it remains questionable if pharma can realistically build relevant reach themselves – in most consumer businesses, manufacturers for a reason are reaching consumers through existing media and audiences,
Rather than attempting to start from scratch, why not engage the asthma community on a platform they already use daily? This idea is what has led us to launch 'MyTherapy for Asthma,' a disease-specific module that runs on top of MyTherapy that is open to everyone living with asthma. If you work for a pharma company that develops asthma treatments, this represents the opportunity for you to gain insights through surveys like the one discussed here, provide information and education patients say they want, and support and guidance to those taking your products. Sounds interesting? Don't hesitate to get in touch.